About PC Pros 2 Go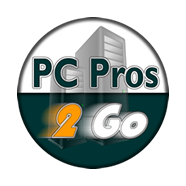 PC Pros 2 Go is a computer services company started in 2005. Originally named Pat's PC Service, we changed the name the following year to PC Pros 2 Go. Our mission from the beginning has been to provide affordable computer services to the Hampton Roads area.
Even with the computer repair market pretty saturated in Hampton Roads, even back in 2005, we've stuck to our mission and have provided computer services to many satisfied customers over the years.
With our low prices, excellent customer service and knowledge in computers we've been helping people get their computers back up and running. The best compliment we get is when someone refers us to their friends or family. When we can provide computer services and leave customers happy with the service they received, it makes us enjoy our job that much more.
We are a family owned and operated business, founded in Hampton Roads and here to stay. Over the years we added web design and website hosting to the services provided by PC Pros 2 Go. And in 2011 we split those website services off into a new company called Website Service 360.

Patrick Flynn – Owner/Lead Technician
Patrick Flynn was born in 1972 and got his first computer in 1982. Long before there was anything resembling the internet. He picked up on computers almost instantly and hasn't been without a computer ever since. The first computers weren't very customizable nor could you really build your own computer back then. Patrick also learned about programming applications, starting with his first computer.
In the early ninety's the PC as we know it started to gain dominance in the computer world. It was then when Patrick started building his own computers.  And has built every desktop computer he's owned since then. Patrick learned discipline though the his military service and customer service through a variety of customer service positions. With a long history with computers, Patrick has excellent diagnostic and computer repair skills. When he's not on services calls, Patrick is usually developing websites.
After numerous years of working in the computer industry Patrick decided to open PC Pros 2 Go where he's been dedicated to helping people with their computer problems.